Main Columns
Thu, Dec 07, 2023

Chinese Small Business Day & Business Opportunities Show 2001

Chinese Small Business Day & Business Opportunities Show 2001 was held at the YMCA (20 Grosvenor St., Toronto) on November 25, 2001. It was a whole day of small business promotion and celebration. Programs included exhibitions/business opportunities show, business seminars, business counseling, as well as a ceremony honoring Canada¡¯s Outstanding Mandarin Entrepreneurs (COME). Once again it was attended by thousands, and it was widely considered a great success.


First Chinese Small Business Day-A Huge Success

The Chinese Small Business Day 2000(CSBD) was held 10:00am-5:00pm on May 28, 2000 at the YMCA (20 Grosvenor St. Toronto). Participated by more than one thousand Chinese immigrants who came to the event looking for business information, the event was the first of its kind in the Greater Toronto Area's Mandarin Chinese community. The programs included business seminars (6 topics), exhibitions/trade show (about 30 exhibitors), business counseling (20 specialists providing free consultation), as well as a ceremony honoring Canada¡¯s Outstanding Mandarin Entrepreneurs (COME). This year's "COME" Winners are Mr. Mike Guo, President of Xincon Computer Institute, Mr. Jack Li, owner of Hualong Supermarket, and Ms. Leona Xing, President of Xinyu Technology Canada Inc..

The success of CSBD has significantly increased the awareness of the market potential* of the Chinese entrepreneur immigrants and has a great impact on the way they are assisted by other groups and organizations of the society. Speaking at the CSBD Mr. Tony Ianno, MP and Mr. Rosario Marchese, MPP both emphasized the contributions of new immigrant entrepreneurs and called for more assistance for them; exhausted from answering so many questions at the CSBD, the two representatives from Revenue Canada recommended each department of the Agency have a representative for next year's CSBD; Nancy Elliott, a Toronto lawyer, wrote a special letter to the CBCC commending the event and described it as "clearly a success"; the World Journal, a major Chinese daily, carried the full CSBD story the following day in its cover page with a colored picture of the crowded scene; the publicity has also been increased by the coverage by other news media (TV and newspapers).

*Emerging Mandarin Chinese Market
Mainland China has been the No. 1 major source of Canada's new immigrants for the last few years, with an average of more than 20,000 entering Canada annually. Most of the new immigrants have settled down in the GTA. As a result, the Mandarin Chinese community has been growing rapidly; right now this population (people from Mainland China and Taiwan) in the GTA is estimated at around 120,000.

This is an entirely new consumer market in Canada. Compared with the previous immigrants from Mainland China, these newcomers (many of them under the business and independent categories) have come with funds, business experience, skills, and education, with great business and/or job potential. The market potential is imaginable.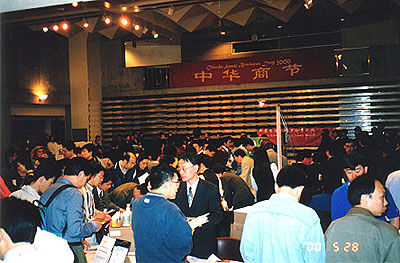 Trade Show at the Main Hall on the Chinese Small Business Day 2000