Main Columns
Mon, May 29, 2023

2006 Chinese Business Excellence Awards & New Year Celebration Gala

The 2006 Chinese Business Excellence Awards & New Year Celebration Gala was successfully held on the evening of January 21, 2007 at the Century Palace Chinese Restaurant (398 Ferrier St. Markham ON L3R 2Z5)

The event attracted about 500 attendees including representatives from over 40 other Chinese organizations, and was covered by some 30 media. Ontario Immigration Minister Hon. Mike Colle delivered a keynote speech; Markham Mayor His worship Frank Scarpitti, Ms. LIU Yi commercial consul from the Chinese Consulate General in Toronto,, Mr. David Ding, President of World Journal Daily and other guests brought greetings. For all the language and cultural barriers, Chinese immigrant entrepreneurs are succeeding in the new land; this is indeed worth celebrating. That is why in every January the Chinese Business Chamber of Canada (CBCC) organises such an event to celebrate the achievements in the Chinese business community in the previous year, to provide an opportunity to for us to share success stories/experiences, to promote information flow/exchange, and to encourage entrepreneurship in the community.

This year¡¯s awards will include 8 categories: New Business, Innovation, High Quality, Social Impact, Entrepreneurship, International Business, Most-Improved, and Person of the Year in Chinese Business. The brief profile of the 8 winners are as follows:

Ms. Lynn Hsu., winner of the title Person of the Year in Chinese Business, is President/owner of Macdonald Realty Ltd., largest real estate company in British Columbia. The company under her leadership has successfully established its own franchise chain employing over 700 sales professionals with annual sales volume close to three (3) billions and company revenue over forty-four (44) millions. She is listed 8th by the Profit Magazine among Canada¡¯s top 100 female entrepreneurs in 2006. Mr. Michael Ma, winner of Entrepreneurship Award, runs his company K.J. Foods Inc.. He started his business venture from scratch and suffered many setbacks but after years of hardworking and perseverance has successfully become a major player in both the market of auto tire equipment and food industry in Canada. His story has inspired many new entrepreneurs. Mr. Joe Pang, winner of Most Improved Business Award, holds double Ph. D degrees in science but has successfully transformed himself into an entrepreneur in investment and real estate business. His company Global Link Realty Group Inc. has enjoyed growth in sales for the last three consecutive years thanks to his hardworking and successful management. Mr. Charles Jiang, winner of New Business Award and owner of Queen Financial Group, gave up his ¡°golden rice bowl¡± a good government job and took the challenge to started his own business in financial service. In just less than a year in time he has successfully established himself in the very competitive market in the Chinese community.

Mr. Richard Dong, winner of Innovation Award, is a well-known Chinese tradition medicine doctor. His innovative approach toward marketing, his focus on the Italian market and outstanding medical service have made him very popular and successful in the Italian as well as Chinese community in Canada. He is a success story in multiculturalism. Mr. Sine Kon Hu, winner of International Business Award, runs his own company Cyclone Range Hoods Inc.. His business, which is operating internationally, has achieved the success in establishing its own design, brand name, production, and sales of self-cleaning range hoods and as a result has significantly increased its market share. Mr. Gin Siow, winner of High Quality Award, and his company Markham Mazda stand out in quality service. His experience, high quality service and good attitude towards life have allowed him to become a very successful entrepreneur. In the past few years he has taken a series of steps to expand his business; right now his company can sell over 1,000 cars a year. Mr. Tony Luk, winner of Social Impact Award and a well-known social activist, is the owner of CanHome Group and involved in multiple business activities ¨C translation, immigration consulting, travel service and so on. While successful in business he never forgets to pay back to the society by getting actively involved in community service and by supporting non-profit and charitable organizations.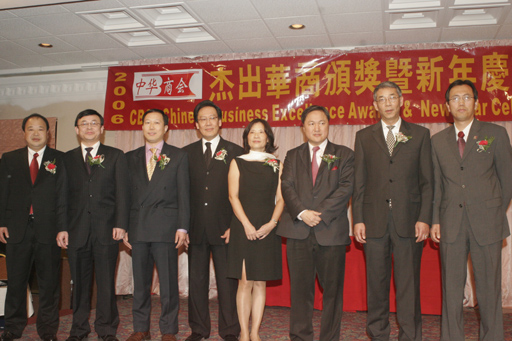 The 8 winners



Ms. Lynn Hsu., winner of the title Person of the Year in Chinese Business, (second from right)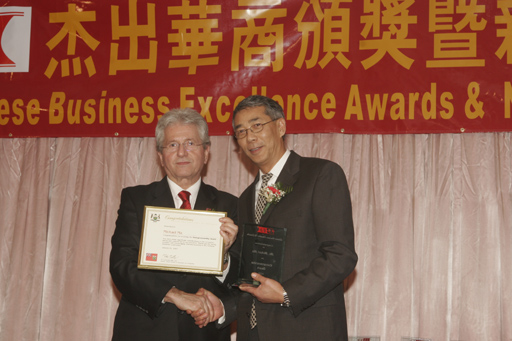 Mr. Michael Ma, winner of Entrepreneurship Award, (right)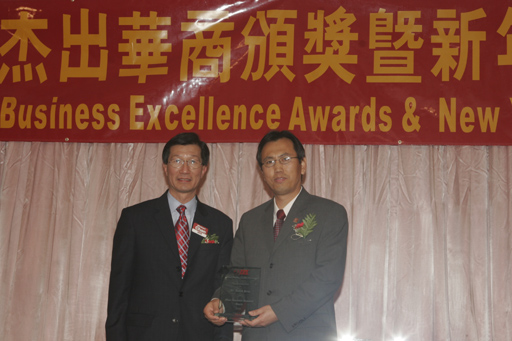 Mr. Joe Pang, winner of Most Improved Business Award, (right)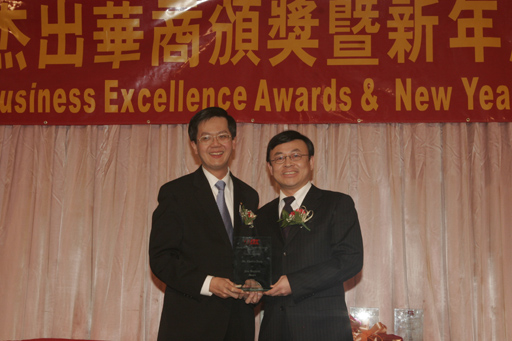 Mr. Charles Jiang, winner of New Business Award (right)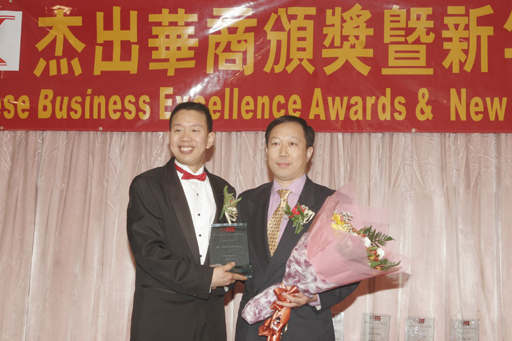 Mr. Richard Dong, winner of Innovation Award (right)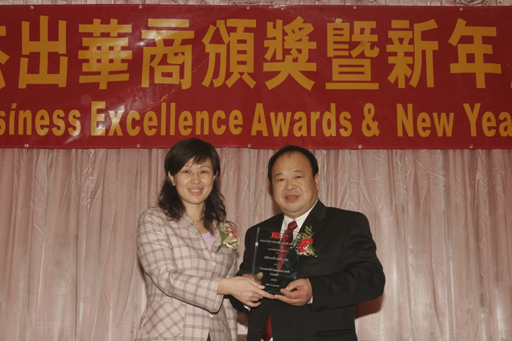 Mr. Sine Kon Hu, winner of International Business Award (right)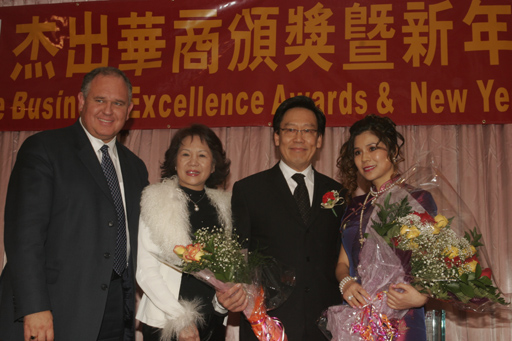 Mr. Gin Siow, winner of High Quality Award (second from right)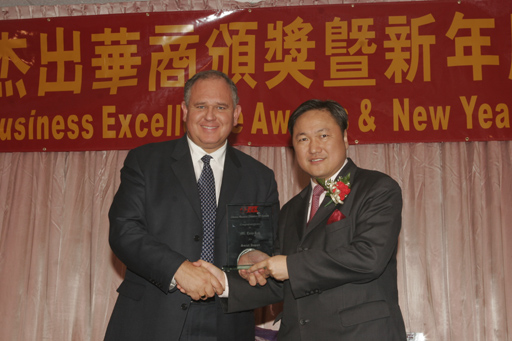 Mr. Tony Luk, winner of Social Impact Award (right)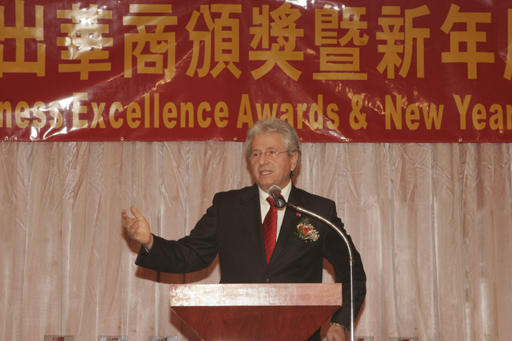 Ontario Immigration Minister Hon. Mike Colle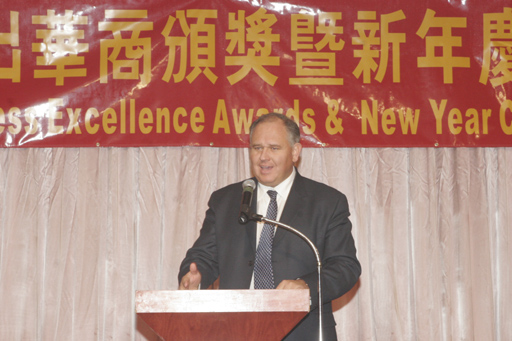 Markham Mayor His worship Frank Scarpitti



Ms. LIU Yi commercial consul from the Chinese Consulate General in Toronto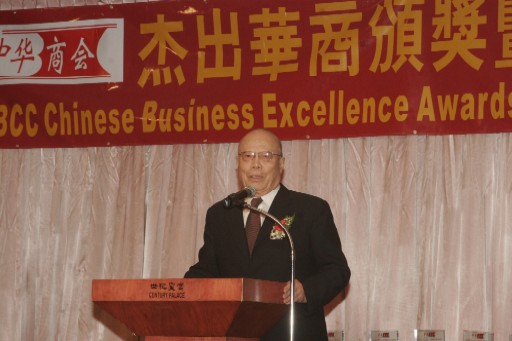 Mr. David Ding, President of World Journal Daily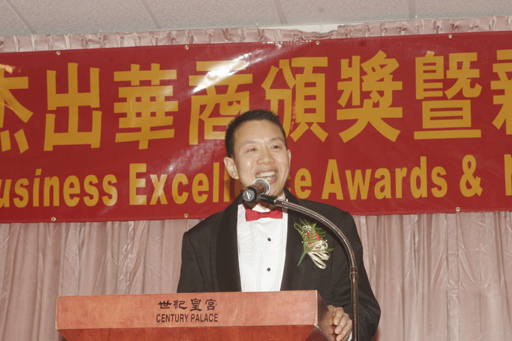 Mr. Sean Hu, CBCC's President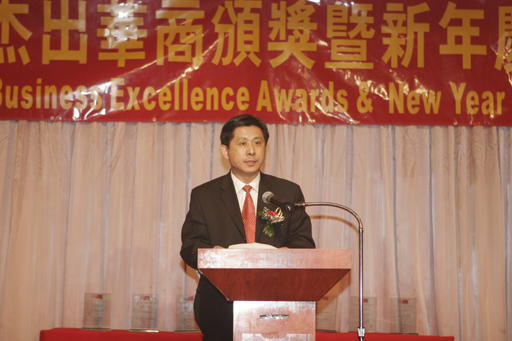 Mr. Benson Wong, CBCC's Chair - Events Committee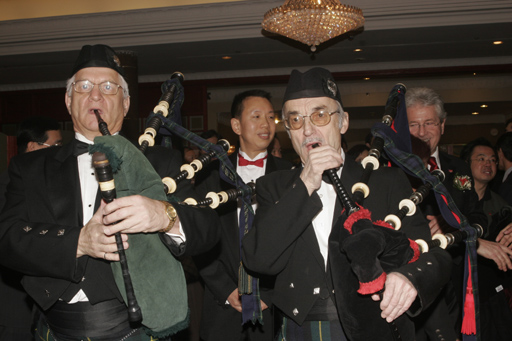 Entering parade